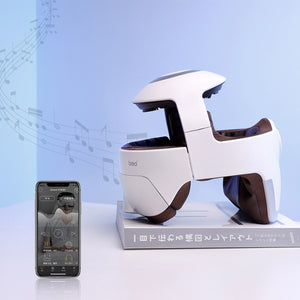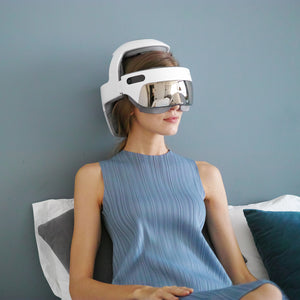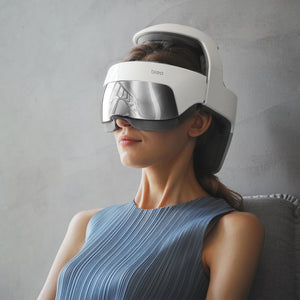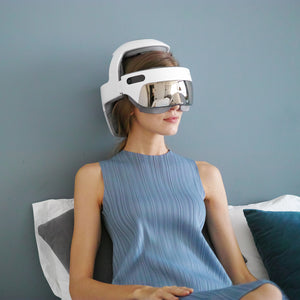 iDream 5S
Using futuristic style and technology, iDream 5S will transport you to total relaxation.
Designed to massage the reflexology points of the head and around the eye area, iDream 5 S uses air pressure, vibration and thermotherapy to relieve headaches, fatigue and tension.
Wear the eye mask when you want to totally unplug from the world, or simply remove it so you can enjoy the benefits of massage while you are reading or even watching your favourite show.
iDream 5S will help improve your sleep quality, replenish your mind and restore your sense of wellbeing.
If you have problems with insomnia, the press of a button will relieve pressure, improve your circulation and help send you off to sleep and sweet dreams.
Intelligent design
Using five contact points and 72 massage claws, the iDream 5S works the entire scalp, as well as the eye area and neck. The manipulation is designed to feel like expert human fingers, working to send you into total relaxation.
Choose a high-intensity massage setting, and allow iDream 5S to relieve headaches, clear your mind and ease high blood pressure caused through stress. iDream can also help enhance your memory, reduce anxiety and prevent colds and other health problems which flare up when your immunity is low and your stress levels high.
Optional eye mask removal
The eye mask is easy to remove, allowing you to enjoy a head massage on its own whenever you wish. This is a good choice when you want to stay aware of your surroundings and multi-task.
Three massage modes for relaxation choice
Mode 1: Physical and mental health
Air pressure, vibration and heat therapy relieves tension and help relax the body and mind.
Mode 2: Quality Sleep
This gentle setting guides you into rest by easing away stress and anxiety.
Mode 3: Vitality
Concentrating on the multiple pressure points of the head and eye area, let reflexology restore your mood and vitality.
Ease of use
Using wireless technology, iDream 5S is simple to use for the entire family. If you choose, you can customise your massage with the user-friendly app.
Easy adjustment
Adjustable to any head size, a single click will allow you to fit iDream 5S to whoever wants to benefit from massage therapy. The detachable eye mask is equally as simple to remove and reattach.